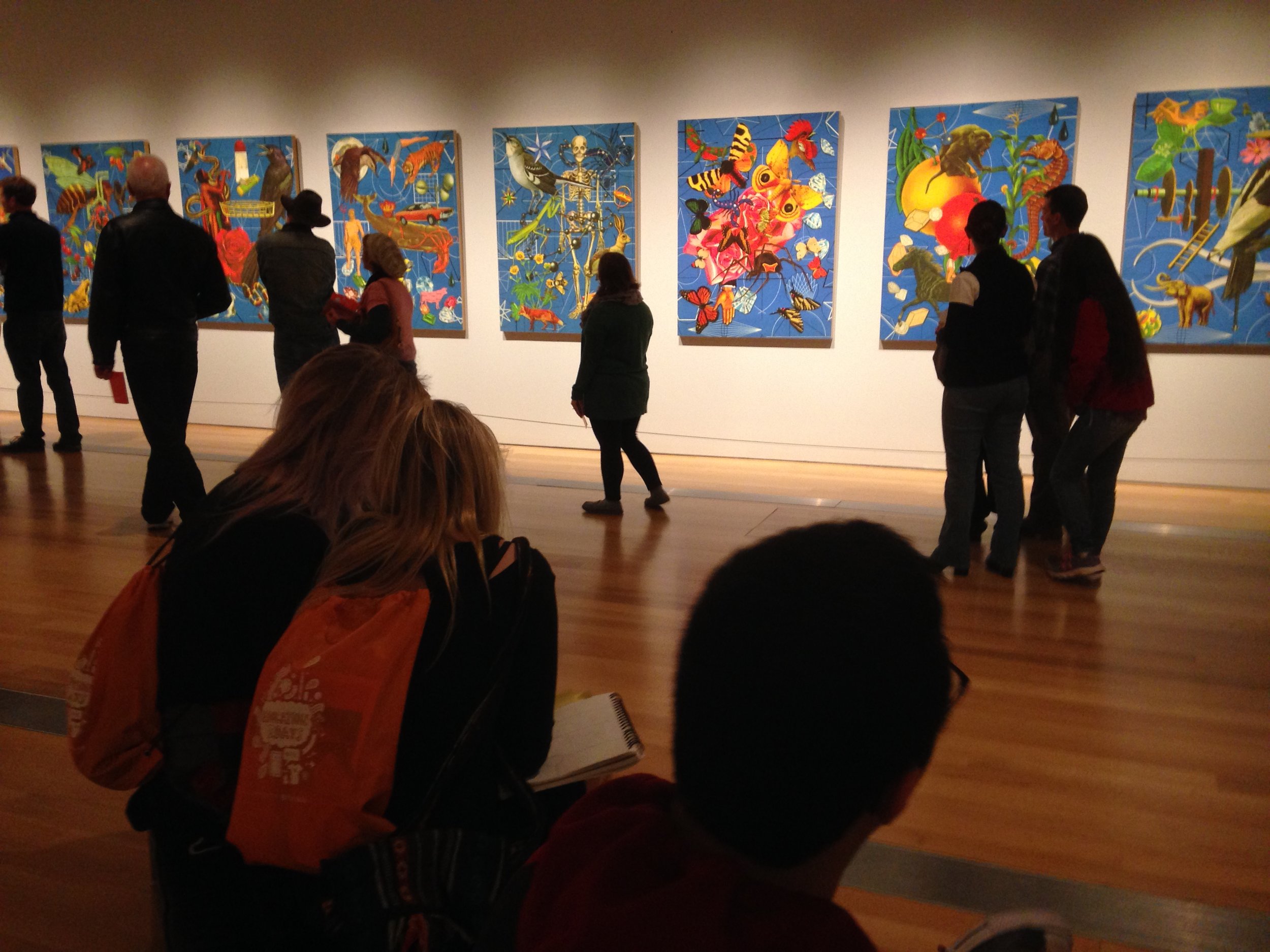 Did You Know?
Young people who participate in the arts for at least three hours on three days each week through at least one full year are:
4 times more likely to be recognized for academic achievement

3 times more likely to be elected to class office within their schools

4 times more likely to participate in a math and science fair

3 times more likely to win an award for school attendance

4 times more likely to win an award for writing an essay or poem
Young artists, as compared with their peers, are likely to:
Attend music, art, and dance classes nearly three times as frequently

Participate in youth groups nearly four times as frequently

Read for pleasure nearly twice as often

Perform community service more than four times as often

("Living the Arts through Language + Learning: A Report on Community-based Youth Organizations," Shirley Brice Heath, Stanford University and Carnegie Foundation For the Advancement of Teaching, Americans for the Arts Monograph, November 1998)
The Music Program at Kensington Woods provides students a diverse exposure to both choral and instrumental music experiences. Students have the opportunity to engage in during and after school music experience to broaden their abilities in both classical and modern music styles. Opportunities are available to both middle and high school students.
The Kensington Woods Music Program offers many learning opportunities for students. Students perform all over the area, including recently at Mackinaw Island and the Grand Hotel and Central Michigan University. They also take part in the Mid-Michigan Charter School Choir Festival, which is hosted by Kensington Woods. Clinicians (from the professional and university arenas) are are regularly brought in to work with the students and provide students a wide variety of expertise.
Classes offered:
Band (beginning and advanced)

Choir (beginning and advanced, including Chamber Singers)

Percussion Ensemble
After School programs:
Art at Kensington Woods is an opportunity for students to express their ideas, thoughts and themselves. Art is offered at every grade level and is explored through a variety of mediums and formats. The Art program at KWoods focuses on developing concepts, technique, aesthetics, creative thinking skills and artistic process, Art is an integral part of the Kensington Woods community and we welcome everyone to join us!
View recent work from students below.
Studio Classes
The core of the Kensington Woods Art Department focuses on it's studio classes. The classes explore a variety of media, techniques and processes with a large amount of choice and artistic freedom given to students, with expert guidance. Studio classes also investigate contemporary and historical artists field trips to museums and galleries. Examples of studio classes offered include:
Middle School Art

Visual Arts 1, 2 & 3

Digital Art (Photography and Graphic Design), 1, 2 & 3

AP Studio Art

Yearbook

Project Term
Media explored through studio classes include (but are not limited to):
Drawing & Painting

Printmaking

Collage & Bookmaking

Digital Photography

Graphic Design

Ceramics

Film photography/darkroom

Sculpture

Film/Video

Industrial Design

Jewelry

Makerspace
Integrated Art
Kensington Woods also offers students integrated art experiences, where art is integrated with core subject areas, allowing students to learn and experience the concepts and skills of both the core subject area and visual art in engaging, unique ways, deepening the learning experience.
Integrated Art experiences are offered through:
STEAM Program (Science, technology, engineering, art and math)

Chemistry/Art class

English 12/Art class

High School class projects

Middle school collaborative projects

Makerspace use
Makerspace
A makerspace is a place where students create, invent, explore, investigate and learn through a variety of materials and tools. Kensington Woods believes in the power of making and creating to deepen and demonstrate learning and has developed a Makerspace for the entire school to utilize and learn through.
The KWoods Makerspace includes both tech-heavy and tech-lite maker resources, including iPads, cameras, film studio equipment, MakeyMakeys, design software, electronic circuitry equipement, power tools, a variety of building materials and tools and more!
Community
The Kensington Woods Art Department takes an active role in the community through both service (to Kensington Woods and the outside community) and exhibitions. Students involved with KWoods Art volunteer with local nonprofits and bring art to the community as well as exhibit their work in local exhibitions and contests.
Students not currently enrolled in an art class are more than welcome to stay involved in the art department by joining National Art Honors Society!
Organizations we work with:
Art Road Nonprofit

The Hive (Howell Teen Center)

Secunda Art Museum

Charles Wright and Spain Elementaries (Detroit)

Light of the World Academy

Pinckney Art in the Park

Howell Melon Festival

Empty Bowls
Recent Exhibition Opportunities:
Livingston Art Council's Got Art Exhibit

Michigan Art Education Association Region 8 art show

Michigan Youth Arts Festival

Michigan Art Education Middle Levels show

Michigan Department of Education Show

Birmingham Bloomfield Art Center Regional High School Show

Lansing Art Gallery

Deck Art

Kerrytown BookFest

Pinckney Community Student Art Show

Livingston County Homeless Continuum of Care Committee Homelessness Awareness Art Show

Participation in the Memory Project

Kensington Woods shows (Barnes & Noble, End of Year show, etc.)
Awards
Students at Kensington Woods participate in local, regional and national art competitions. Below, find a list of recent recognitions for juried shows and competitions from KWoods students
Michigan Art Education Association - Secondary Level - Top 100, Top 30, Governor's Traveling Show

Michigan Art Education Association - Middle Level - Top 100, Top 75, Top 15

Scholastic Art & Writing Awards - Gold Key, Silver Key and Honorable Mention

Congressional Art Competition - Honorable Mention

Kerrytown BookFest Book Cover Contest - 1st place, 2nd place, top five finalist

Lansing Art Gallery Art Scholarship Alert - Sara Jane Venable Scholarship, O'Leary Paint Company Award, David Thomas Memorial Award, portfolio selection

Birmingham Bloomfield Art Center Regional High School Show selection

Livingston County Homeless Continuum of Care Committee Homelessness Awareness Art Show, 3rd place

Blue Lake Fine Arts Camps scholarships

KWoods Art Department: Recipient of Michigan Youth Arts Equipment Grant